Vanryckeghem Bakery
A loyal customer for 3 generations
Vanryckeghem Bakery, an established bakery, has a rich history dating back to the 1940s. Founded by father André, it began as a bakery and grocery shop. Since 2012, the bakery has been passionately run by Olivier and Tamara, the third generation of Vanryckeghem. Over the years, they have adapted to changes in the industry, embracing both traditional values and innovation. Vanryckeghem Bakery is known for its wide range of fresh products and constant search for quality.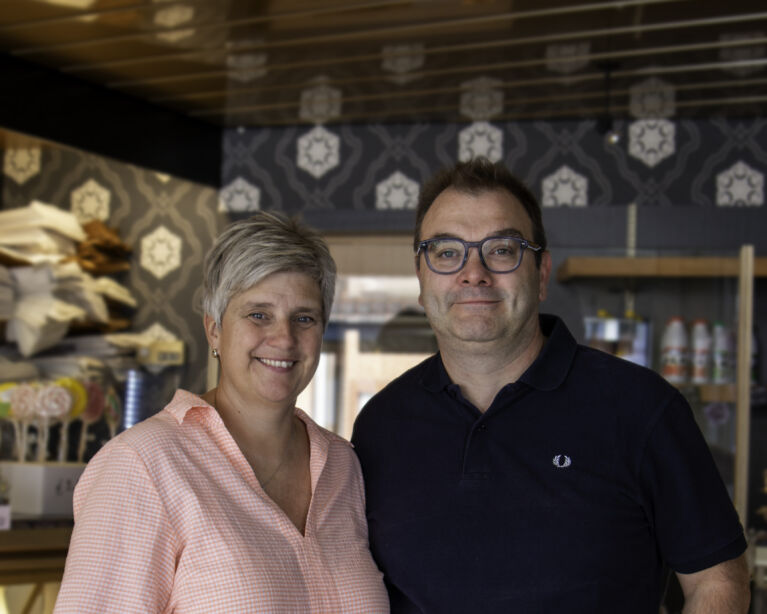 "We appreciate the strong and enduring relationship with Ranson, based on shared values and a common vision of quality, service and innovation"
Olivier
Legacy of craftsmanship

Grandfather André and grandmother Elisabeth started a modest bakery and grocery shop in the 1940s. This grew into a thriving bakery under father Eric Vanryckeghem and his wife Christelle. They modernised the bakery little by little. With his unparalleled skills and dedication, Eric knew how to delight customers with delicious freshly baked bread and pastries.
"I remember Ranson supporting initiatives from the neighbourhood, such as the bakers' union, from the very beginning. We really appreciated that"
Eric
Evolution in the bakery industry

In 1993, the customer base increased substantially and additional help was needed. At that point, Olivier decided to join the business. Moreover, the bakery was completely revamped into a modern bakery, focusing on high-quality products and an updated shopping experience. In 2012, Olivier and Tamara, inspired by their father's craftsmanship, took over the torch and continued the family's traditions.
The Vanryckeghem family kept up with the evolutions in the bakery sector by expanding their range of products, both pastries and bread. Customers can enjoy the bakery's specialities, including the delicious klaas cakes and cow's bread, traditionally made pistolets, cherry tarts and summer strawberry pies.
Fresh products and customer loyalty

The secret behind Bakery Vanryckeghem's success? That lies in their dedication to fresh products. Everything is processed as fresh as possible, and customers appreciate the outstanding quality they experience time and again. This has led to a loyal customer base that keeps coming back for the bakery's delicious treats.
Industry challenges

Although Bakery Vanryckeghem has enjoyed a stable position in the market for many years, there are also challenges they face. The difference between weekend and weekdays is increasing, making planning and staff management more complex. Finding staff willing to work early mornings and weekends is becoming increasingly difficult. In addition, they have had to deal with rising raw material and energy prices, which has affected their costs. Estimating quantities of bread and pastries or last-minute orders also remain a daily challenge.
"Our passion for the baking profession is so great that, despite the challenges, we want to continue for as long as possible and preferably as long as possible with the help of dad Eric," says Olivier.
Cooperation Ranson

Bakery Vanryckeghem has been a loyal customer of Ranson since the beginning. They appreciate the high-quality products and exceptional service offered by Ranson. The company's proximity is surely also a plus.
"Ordering through the webshop goes smoothly, unless I forget to push the confirm button" (laughs)
Olivier
To keep up with the latest trends and developments in the industry, Olivier and Tamara regularly attend inspiration days, where they pick up valuable tips and tricks that they can immediately apply in their bakery. They also regularly visit Ranshop to refresh their shop window and be inspired by the latest decoration ideas.
"Ribbons, boxes and decorative items... you can find everything at Ranshops and you will be helped with a smile" says Tamara.
Future outlook
Olivier and Tamara look to the future with some caution but mostly with enthusiasm. Succession is not yet guaranteed but the hope is that the bakery will continue to exist. With their customers in mind, they strive to create tasty memories every day. They wish Ranson at least another 75 successful years as a partner and supplier!