Hoornaert Bakery
A century-long partnership with Ranson
Almost a century ago, in 1927, Kamiel Hoornaert started Bakery Hoornaert in the Doorniksewijk in Kortrijk. Although the bakery is now in another location in the Doorniksewijk, the history and craftsmanship of the Hoornaert family is still alive and well. In 1956, Romain took over the bakery, and in 1993 the baton was passed on to John and his wife Chantal. A family business maintained for generations.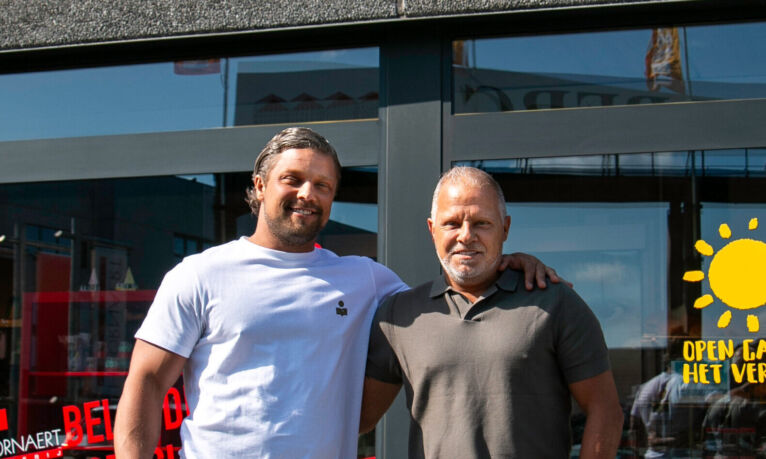 Responding to change

A jump to the present: John has not been active in production for a year and a half and the son, Anthony, is gradually taking over the helm. Bakery Hoornaert currently has seven shops, spread across Zwevegem, Bellegem, Deerlijk and four locations in Kortrijk. The Hoornaert family has always responded to changes in the area to serve customers optimally. So they opened a shop in the city centre, near St Martin's Church, when there was talk of a possible change to one-way traffic in the Tournai neighbourhood. In 2000, they had the opportunity to take over a shop in Leiestraat. And in 2007, they moved to Marke with their studio.
Promising future
Hoornaert Bakery's future looks promising. With the current seven shops, they think the number of branches is sufficient, but they would like to attract more companies and serve them at events or daily with sandwiches. Anthony shares his vision: "Companies usually only order from Monday to Friday and during weekends the shops are busy anyway. This is how we get more balance in our orders."

He receives support from his niece Michelle, who helps with all administrative tasks and also resolves any problems. The dedicated staff at Hoornaert Bakery run the business as if it were their own, with fun and a willingness to make exceptions and go the extra mile.
Positive developments in the sector

A few years ago, we saw that the hospitality industry often baked off their own products. But now a shift is noticeable.
"Those who bake off their own products also have to consider storage and purchase or maintenance of equipment. We have the flexibility and capacity to meet any late orders. Hospitality companies are now choosing this option more often."
Anthony
With three vans hitting the road daily, they can serve their customers quickly and efficiently. Still, they are considering possible expansions, as they find that the available space for storage is slowly but surely filling up. However, they want to grow step by step, with an eye on quality and service.
Although Bakery Hoornaert has encountered some challenges in the sector, such as the rise of department stores that have their own bakeries, they also see positive developments. Anthony stresses, "We notice that new bakers are coming back now. It is reassuring that consumers still see the value of artisan bakeries."
Quality and service
Hoornaert Bakery is known for its fresh, crispy pistolets, which come in several varieties, such as multigrain and cheese pistolets. There are also photo cakes and themed cakes for which many people come to the bakery especially. Anthony says: "For example, we make Bumba cakes and put Bumba bath figures on them. That way, the child also has something to gain from it afterwards". At Bakery Hoornaert, it's all about quality and service. They offer their customers the option of ordering until the evening and value the friendliness and helpfulness of their staff.
A valuable relationship
Talking about their long-standing partnership with Ranson, a smile appears on John's face. He recalls that Bakery Hoornaert was already a customer at the time of Kamiel Hoornaert. "We even knew Filip and Frank Ranson amicably very well," he adds. "Ranson has always provided excellent service. If you wanted to reorder something, it was always possible. And Jennifer from inside sales is always friendly to us as well," Anthony stresses. He also appreciates the weekly visit of representative Rik, who maintains a valuable relationship with Bakery Hoornaert. For special orders, chef-patissier Veerle even gets advice from Rik.
In addition to Ranson's products and service, Bakery Hoornaert also relies on Ranshop for all their packaging and ribbon needs. They also appreciate the opportunity to attend demonstrations and discover new trends.
Finally, in 2027, Bakery Hoornaert will celebrate its 100th anniversary. A milestone to look forward to and celebrate. Anthony concludes the interview with warm words: "For now, we wish Ranson many more years to come! We hope we can work together for a long time to come."