Ottevaere Bakery
Time gives taste
In this interview, we speak to Chris and Isabelle Ottevaere, the proud owners of Bakery Ottevaere (Moen), a family-run business dating back to 1938. We discuss their rich history, the secrets behind their delicious products and their collaboration with Ranson.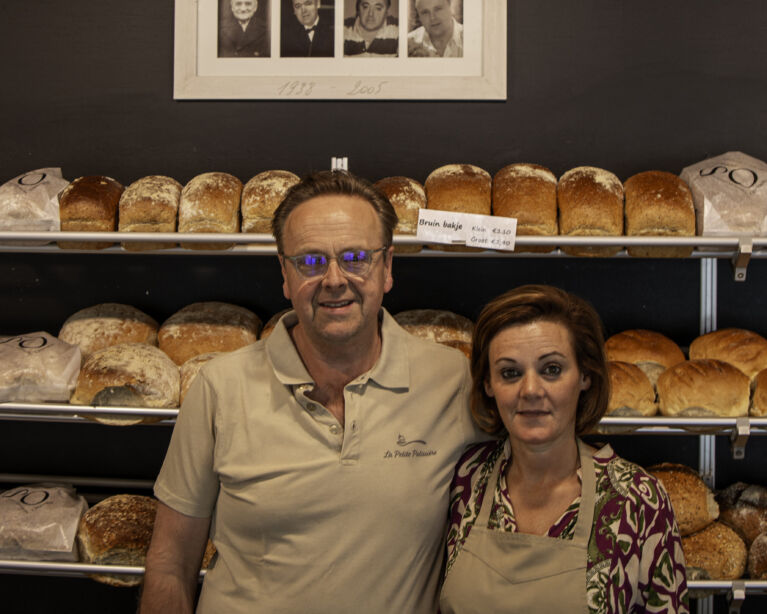 3 generations
Chris proudly begins by saying, "Our bakery is a family affair that goes back generations. It all started in 1938 when my great-grandfather Aimé Ottevaere started the bakery. Since then, we have passed on the fire from generation to generation. First Marcel Ottevaere, our grandfather, took over the bakery in 1948, and then my father, Willy Ottevaere, took over in 1967."
Ranson: a true partner
Chris and Isabelle explain how their collaboration with Ranson began: "When my father, Willy, ran the bakery, we became customers of Ranson. I remember that at the time, Ranson was still located at the Cowboy Henk artwork in Kortrijk. They were a reliable supplier even then, and over time not only the business relationship grew, but also the friendship between our families," says Chris.
Willy adds with a smile: "Ranson originally supplied one type of butter, but their range expanded to include sultanas, tinned fruit and even home-produced marzipan. Our representative, Bernard, was always very involved with us. Even when we were on leave, I gave him the key so he could take down orders. And as a thank you, his beer was always ready!"
Family and traditions
For the Ottevaere family, the importance of family and traditions is clear. "Despite how busy the bakery is, we always try to make time for our family. We still go on trips together and celebrate Christmas together. We cherish these moments immensely; they give us the strength to carry on and keep growing as a family and business," Chris says with warmth.
Time gives flavour
When talking about Bakkerij Ottevaere's unique approach, Chris stresses the importance of traditional methods and the time they invest in their products: "At Ottevaere, we still weigh everything manually and make everything in pre-fermented dough. Although many young bakers use the latest techniques, we believe that time gives flavour. It is more labour-intensive, but our customers see, feel and taste the difference."
The specialties
When asked about their speciality, Chris and Isabelle beamed. "Our cheesecakes are the absolute favourite of our customers. It did take my grandfather Marcel three months to fine-tune the recipe, but it was worth it. The family recipe is passed down from generation to generation," says Isabelle proudly. "And let's not forget the delicious chocolate cakes; they are also very popular," Chris adds.
Challenges and the future
"Of course there are challenges in our industry," says Chris. "Competition from department stores is palpable, and modern lifestyles sometimes affect our customer base. Retaining our great staff is also a challenge, but we value them tremendously and want to keep them with us."
On the future of Bakery Ottevaere, the couple say: "Our two daughters, Romanie and Marie-Charlotte, are very motivated and have decided to open their own coffee bar 'More than cake' in Oostduinkerke, where they will serve coffee with our famous Ottevaere pastries. We are excited about this new step in their lives and look forward to the opening in the Christmas holidays."
Collaboration with Ranson : simplicity graces
They are full of praise about their collaboration with Ranson.
"We enjoy working with Ranson for several reasons. First, we appreciate the fact that Ranson still makes their own broyage and marzipan, which is a sign of their commitment to quality. Secondly, they offer honest products at fair prices, which is very important to us. And finally, the family character of Ranson appeals to us greatly. Simplicity adorns the Ranson family!"
Chris and Isabelle
Ottevaere Bakery is not only a place where delicious products are made, but also a testament to family ties, traditions and dedication to quality. It is clear that with their passion for baking delicious products and their love for their family and staff, Chris and Isabelle Ottevaere are continuing the legacy of their ancestors. We wish them every success with their bakery and new coffee bar!